Singing Waiters perfect for any Event
Naturally you want your event or celebration to be unique and of course you want to make it a night to remember for all your guests. From planning to execution every detail is important; the right venue, the perfect theme and of course, the best entertainment. When it comes to making a big impression, the perfect entertainment will play a huge part. Whether a musical act or another type of entertainment, you will want performers that are well suited to your guests and event and of the of the highest professional standard.
Surprise Singing Waiters or an Opera Singing Chef can be an impressive way of entertaining your guests that is both fun and stylish. Using Singers for Hire you can book singing waiters that are professional artists  with international profiles who are guaranteed to be a highlight of your celebration.
Not Just Opera Singing Waiters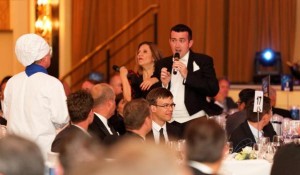 Singing Waiters from singers for hire have a fun presentation with a broad appeal. They can sing a wide range of musical styles, not just opera. They will build a repertoire that will work for just about any occasion: Charity fundraising, weddings, birthdays, Corporate functions to name just a few
To find out more about Singers for Hire's opera singing waiters and to book a wow factor fit for any occasion, visit www.singersforhire.com. Or complete the form below.
Their singing waiters sing in all parts of Ireland, the UK and continental Europe. With an office in Ireland and in Sydney they would be delighted to travel to the USA, UAE or the far east.
For exciting and exceptional entertainment for your corporate or private event, let the professionals at Singers for Hire turn your occasion into a celebration. Enjoy songs from the great operas, swing hits, serenades and much, much more. Call or email singersforhire@gmail.com  visit singersforhire.com or just fill in the form below for more information about their world class entertainment services.